Plastische chirurgie is iets dat de afgelopen jaren een stuk bekender is geworden. Waar het vroeger iets was voor de Hollywood sterren, is het inmiddels in Nederland redelijk veel toegepast. De ingrepen variëren van een borstvergroting, liposuctie tot het krijgen van een strakker gezicht middels een facelift.
Een ingreep die iets minder bekend is, dat is de borstverkleining. Een ingreep die meestal klachten met de rug, nek en schouders kan verminderen. Vrouwen met grote borsten kunnen daar namelijk veel last van krijgen als ze sporten of gewoon bewegen tijdens alledaagse activiteiten. Deze ingreep hoeft dus niet altijd cosmetisch van aard te zijn, zoals dat bij veel andere ingrepen uit de plastische chirurgie vaak wel het geval is.
Hoe werkt zo'n borstverkleining?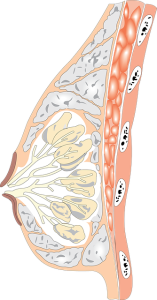 Er zijn diverse mogelijkheden bij het verkleinen van de borsten. Ten eerste is er soms de mogelijkheid om dit via een liposuctie / liposculptuur te doen. Dit is een techniek waarbij vet kan worden verwijderd van een bepaalde plek, in dit geval dus de borsten. Een voordeel van deze techniek is dat er achteraf vaak weinig zichtbaar blijft in de vorm van littekens. Deze optie is echter alleen een mogelijkheid als er relatief veel vet aanwezig is in de borst van de vrouw. Is dat niet het geval, dan valt deze methode vaak af.
Als een borstverkleining middels liposuctie niet tot de mogelijkheden behoort, is er ook nog een andere optie om de borsten operatief te verkleinen. Middels een snede in de borst kan er vetweefsel, klierweefsel en huis worden verwijderd uit de borst. Doordat de borst nu kleiner is geworden, zal ook de tepel moeten worden verplaatst tijdens de operatie. Een plastisch chirurg zal altijd proberen om zo min mogelijk littekens achter te laten. Vaak wordt dit van te voren besproken.
Ingrepen nooit zonder risico
Een chirurgische ingreep is natuurlijk niet risico vrij. Een consult bij een plastisch chirurg of een ander arts zal uitleg geven over deze risico's. Denk altijd goed na voordat u dergelijke ingrepen overweegt en laat u altijd begeleiden door een arts.